Main Content
Boy Nobody Series, Book 1
They needed the perfect soldier: one who could function in every situation without fear, sympathy or anger; who could assassinate strangers and then walk away emotionally unscathed. So they made Boy...More
They needed the perfect soldier: one who could function in every situation without fear, sympathy or anger; who could assassinate strangers and then walk away emotionally unscathed. So they made Boy...More
Available formats
-
OverDrive Read
Adobe EPUB eBook
Description
-
They needed the perfect soldier: one who could function in every situation without fear, sympathy or anger; who could assassinate strangers and then walk away emotionally unscathed. So they made Boy Nobody-a teen with no name or history. The perfect soldier.Boy Nobody is the perennial new kid in school, the one few notice and nobody thinks much about. He shows up in a new high school, in a new town, under a new name, makes few friends and doesn't stay long. Just long enough for someone in his new friend's family to die -- of "natural causes." Mission accomplished, Boy Nobody disappears, and moves on to the next target. But when he's assigned to the mayor of New York City, things change. The daughter seems so much like him; the mayor smells like his father. And when memories and questions surface, the Program is watching. Because somewhere, deep inside Boy Nobody, is somebody: the kid he once was, the teen who wants normal things like a real home and parents, a young man who wants out. And who just might want those things badly enough to sabotage The Program's mission.
About the Author
-
Allen Zadoff's first YA, Food, Girls, and Other Things I Can't Have, was published by Egmont in 2009. It was a 2010 recipient of the Sid Fleishchman Humor Award. His adult memoir, Hungry, was published in 2007. Allen's YA "lad lit" novel My Life, The Theater, and Other Tragedies was published by Egmont in May 2011 and his next YA novel, Since You Left Me, will publish in August 2012. He teaches writing in LA.
Title Information
+
Little, Brown Books for Young Readers
Digital Rights Information
+
Copyright Protection (DRM) required by the Publisher may be applied to this title to limit or prohibit printing or copying. File sharing or redistribution is prohibited. Your rights to access this material expire at the end of the lending period. Please see

Important Notice about Copyrighted Materials

for terms applicable to this content.
You already have this title checked out.
×
Recommendation Limit Reached.
You have reached the maximum number of titles you are permitted to recommend at this time.
×
To recommend Boy Nobody, complete the following information:
We respect your privacy. Any and all information collected at this site will be kept strictly confidential and will not be sold, reused, rented, loaned, or otherwise disclosed.
×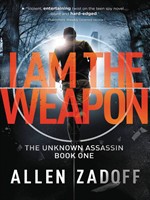 Boy Nobody
Boy Nobody Series, Book 1
Allen Zadoff
×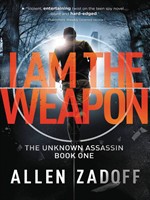 Boy Nobody
Boy Nobody Series, Book 1
Allen Zadoff
Choose a retail partner below to buy this title for yourself.
A portion of this purchase goes to support your library.
Sorry, no retailers are currently available to purchase this title. Please check back later.
×