Main Content
Agatha Raisin and the Perfect Paragon
Agatha Raisin and the Perfect Paragon
Agatha Raisin Mystery Series, Book 16
Celebrating 20 Years of Agatha Raisin—Brand-New Bonus Story Included!After being nearly killed by both a hired hit man and her former secretary, Agatha Raisin could use some low-key cases. So...More
Celebrating 20 Years of Agatha Raisin—Brand-New Bonus Story Included!After being nearly killed by both a hired hit man and her former secretary, Agatha Raisin could use some low-key cases. So...More
Available formats
-
Kindle Book
OverDrive Read
Adobe EPUB eBook
Description
-
Celebrating 20 Years of Agatha Raisin—Brand-New Bonus Story Included!

After being nearly killed by both a hired hit man and her former secretary, Agatha Raisin could use some low-key cases. So when Robert Smedley walks through the door, determined to prove that his wife is cheating, Raisin Investigations immediately offers to help. Trouble is, Agatha hates divorce cases--especially when the client is as pompous as Smedley--but she has a business to run and she's not about to turn away a paying customer. Unfortunately for Agatha, Mabel Smedley appears to be the perfect wife, young and pretty and a regular volunteer at church.

Although Smedley's case doesn't look promising, Agatha's attentions are diverted when she stumbles across the body of missing teenager, Jessica Bradley. In a sudden gesture of kindness (and good public relations), Agatha offers to investigate Jessica's death free of charge.

As Agatha juggles her two biggest cases, things are turned upside down when Robert Smedley is found poisoned in his office. The prime suspect, his sainted wife Mabel, immediately hires Agatha to find the real killer.

With the help of her old friend, Sir Charles Fraith, and some newly hired staff, Agatha Raisin sets off on another adventure solving crime in the English Cotswolds.
Excerpts
-
Copyright 2005 by M. C. Beaton.

THE PERFECT PARAGON (Chapter 1)

EVERYONE in the village of Carsely in the English Cotswolds was agreed on one thing--no one had ever seen such a spring before.

Mrs. Bloxby, the vicar's wife, stepped out into her garden and took a deep breath of fresh-scented air. Never had there been so much blossom. The lilac trees were bent down under the weight of purple and white blooms. White hawthorn hedges formed bridal alleys out of the country lanes. Clematis spilled over walls like flowery waterfalls, and wisteria decorated the golden stone of the cottages with showers of delicate purple blooms. All the trees were covered in bright, fresh green. It was as if the countryside were clothed like an animal in a deep, rich pelt of leaves and flowers.

The few misery-guts in the village shook their heads and said it heralded a harsh winter to come. Nature moved in a mysterious way to protect itself.

The vicarage doorbell rang and Mrs. Bloxby went to answer it. Agatha Raisin stood there, stocky and truculent, a line of worry between her eyes.

"Come in," said Mrs. Bloxby. "Why aren't you at the office? No cases to solve?"

Agatha ran her own detective agency in Mircester. She was well dressed, as she usually was these days, in a linen trouser suit, and her glossy brown hair was cut in a fashionable crop. But her small brown eyes looked worried.

Mrs. Bloxby led the way into the garden. "Coffee?"

"No," said Agatha. "I've been drinking gallons of the stuff. Just wanted a chat."

"Chat away."

Agatha felt a sense of comfort stealing over her. Mrs. Bloxby with her mild eyes and grey hair always had a tranquillizing effect on her.

"I could do with a really big case. Everything seems to be itty-bitty things like lost cats and dogs. I don't want to run into the red. Miss Simms, who was acting as secretary, has gone off with my full-time detective, Patrick Mulligan. He's retired and doesn't want to be bothered any more with work. Sammy Allen did the photo work, and Douglas Ballantyne the technical stuff. But I had to let them go. There just wasn't enough work. Then Sally Fleming, who replaced Patrick, got lured away by a London detective agency, and my treasure of a secretary, Mrs. Edie Frint, got married again.

"Maybe the trouble was that I gave up taking divorce cases. The lawyers used to put a good bit of business my way."

Mrs. Bloxby was well aware that Agatha was divorced from the love of her life, James Lacey, and thought that was probably why Agatha did not want to handle divorce cases.

She said, "Maybe you should take on a few divorce cases just to get the money rolling again. You surely don't want any murders."

"I'd rather have a murder than a divorce," muttered Agatha.

"Perhaps you have been working too hard. Maybe you should take a few days off. I mean, it is a glorious spring."

"Is it?" Agatha gazed around the glory of the garden with city eyes which had never become used to the countryside. She had sold up a successful public relations company in London and had taken early retirement. Living in the Cotswolds had been a dream since childhood, but Agatha still carried the city, with all its bustle and hectic pace, inside herself.

"Who have you got to replace Patrick and Miss Simms? Are you sure you wouldn't like anything? I have some home-made scones."

Agatha was tempted, but the waistband of her trousers was already tight. She shook her head. "Let me see... staff. Well, there's a Mrs. Helen Freedman from Evesham as secretary. Middle-aged, competent, quite a treasure. I do all the detecting myself."

"And for the technical and photographic stuff?"

"I'm looking for...
About the Author
-
M. C. Beaton has been hailed as "the new Queen of Crime." She is The New York Times bestselling author of the Agatha Raisin mysteries, including As the Pig Turns and Busy Body, set in the English Cotswolds, as well as the Hamish Macbeth mysteries set in Scotland. She has also written historical romance novels and an Edwardian mystery series under the name Marion Chesney. Before writing her first novels, Beaton worked as a bookseller, a newspaper reporter, a fashion critic, and a waitress in a greasy spoon. Born in Scotland, she currently divides her time between Paris and a village in the Cotswolds. She was selected the British Guest of Honor for the Bouchercon World Mystery Convention in 2006.
Digital Rights Information
+
Copyright Protection (DRM) required by the Publisher may be applied to this title to limit or prohibit printing or copying. File sharing or redistribution is prohibited. Your rights to access this material expire at the end of the lending period. Please see

Important Notice about Copyrighted Materials

for terms applicable to this content.
You already have this title checked out.
×
Recommendation Limit Reached.
You have reached the maximum number of titles you are permitted to recommend at this time.
×
To recommend Agatha Raisin and the Perfect Paragon, complete the following information:
We respect your privacy. Any and all information collected at this site will be kept strictly confidential and will not be sold, reused, rented, loaned, or otherwise disclosed.
×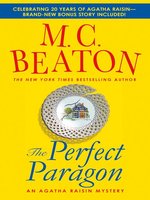 Agatha Raisin and the Perfect Paragon
Agatha Raisin Mystery Series, Book 16
M. C. Beaton
×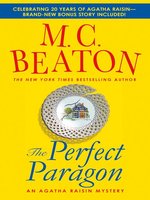 Agatha Raisin and the Perfect Paragon
Agatha Raisin Mystery Series, Book 16
M. C. Beaton
Choose a retail partner below to buy this title for yourself.
A portion of this purchase goes to support your library.
Clicking on the 'Buy It Now' link will cause you to leave the library download platform website. The content of the retail website is not controlled by the library. Please be aware that the website does not have the same privacy policy as the library or its service providers.
×